I have seen over the last 20 years impressive, positive gains on the part of living-apart parents who have attended Solutions For Families' prize winning Co-parenting program.  When I get feedback from my c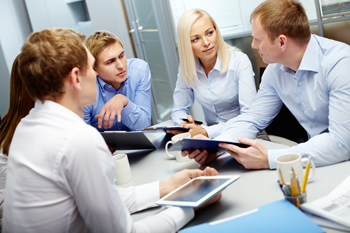 lients who I've referred to Solutions for Families, or recommended to the court that they do so, I always hear positive feedback.  Dr. Herold and his co-instructors have user-friendly, down to earth ways of teaching — which help to make the classes enjoyable.  I consider it essential for co-parents to attend Co-parenting classes together.  In my opinion, the 'workshop' approach provides the only tried and true way for co-parents to develop and master the skills required for parents to give their children the gift of 'parenting together yet apart.'  They key to reaching that point, and moving past conflict harmful to children and their parents alike, is developing and mastering the skills and understandings needed to put children first.  I can think of no greater gift parents living apart can give their children.
Amy Miller, Ph.D.
Licensed Psychologist (#PSY 10372)
Specialist in High Conflict Family Interventions and
Court-ordered Child Custody Evaluations

The Course [Co-parenting] i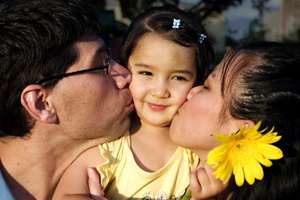 s exactly what we needed to get on the right track and stay on it.  The class material is extremely well put together.  It covers just about any issue you may encounter and gives the strategies and methods to navigate through it with ease.  The interactive aspect of the class was great and encouraging and pushed us to think outside ourselves and focus on our children (which we don't always realize we neglect to do) … We are still a single [family] unit, just in different locations.  Our family's future is bright and endless.
R. N., Family Law Paralegal
Graduate of Co-parenting

I can't say enough good things about Les Herold and the help he gave to the KidsFirst Center in starting our KidsFirst Program for Parents in High Conflict.
I first heard Les speak at an AFCC conference in Tucson, Arizona. He was leading a workshop about a program he had developed in California, working with parents who had been in continued high conflict. I was extremely impressed with his presentation and his program (insert correct program name).
When I returned home to Maine I called him several times for guidance and advice over the telephone, as we struggled to develop our own program. Les was so helpful and generous with his time, sharing valuable information that he had learned while working with these challenging families. He was instrumental in helping us create our successful nine week program here in Maine. Les is a true "collaborator" and one who cares passionately about the impact of divorce on kids.
Peg Libby
Executive Director, KidsFirst
Portland, Maine

Dr. Herold has donated numerous hours of his time on weekdays and weekends in trying to resolve our family matters. His home visits to my house and my son's [other] home were very insightful and beneficial.  He has provided numerous suggestions, ideas and plans to help my son's mom and me become better co-parents. It has had a profound effect on my life.
D. J., Probation Officer
Graduate of Co-parenting and ongoing participant in
Advanced Co-parenting

I enthusiastically recommend Dr. Les Herold as a parent education consultant. He was a valuable resource for ideas and techniques for creating our parent education programs for adult learners. He worked closely with us to determine our focus, goals and methods for making the sessions dynamic, relevant and educational. The materials we licensed and customized resulted in an exciting, innovative and successful program that increased parents' awareness of the role of communication in co-parenting after separation, and demonstrated several techniques for child-centered cooperation and problem solving.
Kathleen Bird
Director, Office of Dispute Resolution

Dr. Herold, one of the country's leaders in the divorce education field, has a wealth of clinical experience and insight into the needs of divorcing families. He has developed brilliant strategies that move parents to make substantial changes quickly. I have also been impressed by his additions to my online Children in the Middle co-parenting course. It has made the course very powerful.
Dr. Donald Gordon
Director of the Center for Divorce Education (Athens, Ohio)
Author of What About the Children, A Guide for Divorced/Separated and Divorcing Parents (6th Edition), Children in the Middle (text, video and on-line), Parenting Wisely, After the Storm
(For details, go to www.divorce-education.com)

Dr. Herold's co-parenting program is the answer to the problems of thousands of families! Parents who live apart because of divorce, separation, or because they never married but have a child together, have the chance to give the gift of peace to the son or daughter they love. By simply attending the classes, learning the skills and practicing better ways of communicating, mothers and fathers can literally free their children of suffering caused by parental strife and discord.
The curriculum of Dr. Herold's healing program has three wonderful facets I call secret ingredients. The first ingredient is hope. Moms and Dads who lose their marriage don't have to lose their important roles with their children, because with this program they  learn a collaborative approach. By re-visiting the age old skills of asking politely for what they want and remembering to say thank-you,  parents feel invigorated by the end of the co-parenting program, assured that they can hear and respond to each other.
The second special ingredient discovered by Dr. Herold is draw. Even shy and insecure mothers and fathers can learn the skills of this program, because the slow and gradual method makes it so easy for them to take part. But Dr. Herold's third and almost magical ingredient is influence. Separated parents always want and need ways to make an impact on the other parent's behavior, and in this program they learn gentle but powerful tools for shaping the way they work together. Once "graduation day"  has arrived, parents who complete the course know for sure that they can make a positive difference for their children, and they know exactly how to do it.
I wish all parents who live apart could take advantage of this marvelous resource!
Shirley Thomas, PhD
Director, Colorado Co-Parenting, and Author, Parents Are Forever